12 Things You'll Need to Know When Renovating Your Kitchen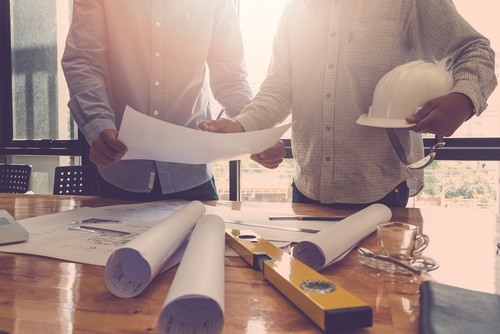 Kitchen Renovations
Kitchens are often one of the first rooms in a house to be renovated. They're also one of the most expensive, so you want to make sure that you have all your bases covered before beginning a kitchen renovation project. In this article, we will discuss 12 key considerations that every homeowner should think about when renovating their kitchen.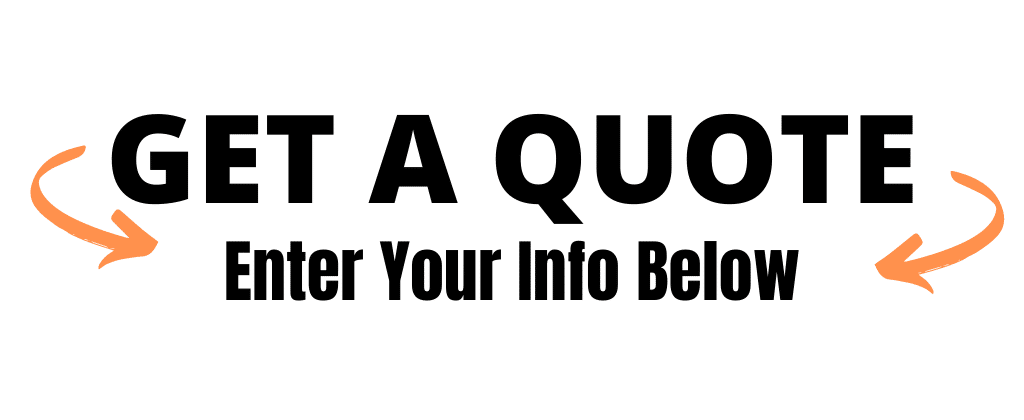 Renovating the kitchen: where to start?
The kitchen is the heart of every home. It is the place where we cook, eat, and spend time with our families. It's also a space that can be used to entertain guests or for studying at home when you are not in school!
Renovating your kitchen: what do I need?
The first thing on everyone's list of things they want their new kitchens to have would probably include a center island countertop that provides extra work surface as well additional seating if needed.
Other popular features people look into adding during renovations include stainless steel appliances such as dishwashers & refrigerators along with gas range appliances.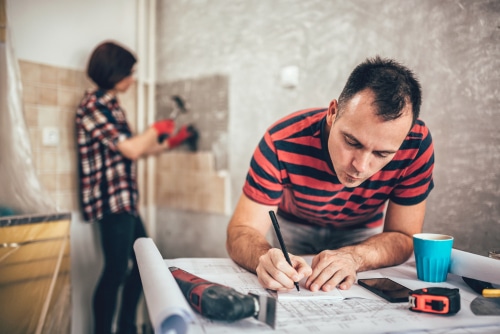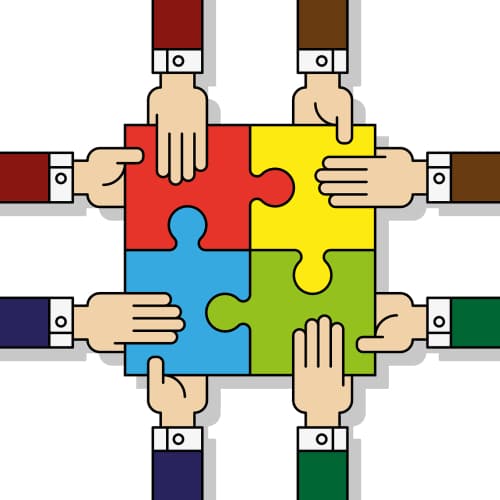 Meeting everyone's needs while building your dream kitchen
There are several family members involved in a kitchen renovation and meeting everyone's needs can be challenging. The homeowner, the spouse, and any children living in a home will all have different opinions on what they want to see happen with their kitchen.
The best way for everyone's needs to be met is by having an open dialogue about each person's vision of how things should go before beginning renovations so that there are no surprises later down the line when it comes time to make decisions or compromises
The homeowners may not like some aspects but still, need them because this project has been planned out long ago. This can lead to conflict if one party feels as though he/she was forced against their wishes even after voicing concerns beforehand; however, these types of situations often end up being resolved through a compromise which leads us to our next point.
Kitchen Remodel & Setting a budget
This is a big important factor, how much to spend on the renovation. It is best to set a budget before the project begins so that you are not surprised when it comes time for decisions or compromises.
The homeowners may want all new appliances, but if they don't have enough money in their renovation fund then this will need to be reconsidered and other options explored such as buying used kitchen cabinets instead of custom-made ones
This can lead them back on track with what was originally planned out long ago which leads us to our next point:
Planning ahead! Planning your design early means fewer headaches later down the line because there won't be any surprises about how things should go during renovations; everyone's needs being met by having an open dialogue from day one where each person has his/her vision expressed without fear.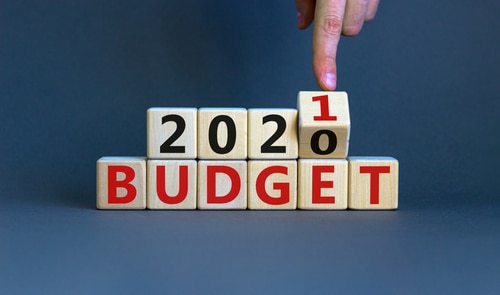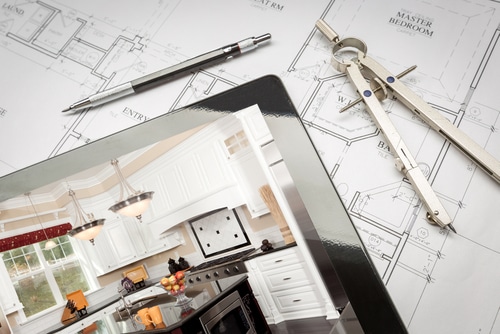 Kitchen designers & optimizing the space
Taking a DIY route can lower costs, but unless you have the skills and material to do so, it's highly recommended that you hire a contractor or speak with designers. There are ways to keep design and build costs low while working with a professional. This includes having a solid plan that won't require many changes while the job is in progress, or even opting for a partial renovation. Kitchen renovations are one of the most common home renovations, and it's entirely possible to cut costs in the process.
Choosing the lighting for your kitchen renovations is an important part of the design process. Using pot lights & task lighting will give it a warm hue but if you want a more modern look, consider using recessed lighting in the house.
Lighting is also important for safety reasons - if there are no lights in the kitchen it can be difficult to see what's on your countertops and floors which could lead down some very dangerous paths! Getting expert advice on your construction remodel will be invaluable.
There are many lighting options for your kitchen including LED, fluorescent, halogen, and incandescent.
When remodeling lighting is also important for safety reasons - if there are no lights in the kitchen it can be difficult to see what's on your countertops or floors which could lead down some very dangerous paths!
There a variety of lighting options including LED (which uses less energy than other types), fluorescent bulbs that last longer but give off more heat; Halogens provide bright light with an instant-on feature while Incandescents have been around since Edison invented them over 100 years ago.
The type you choose will depend largely upon personal preference as well as how much natural sunlight comes into the room during daytime hours. There's nothing wrong about mixing different styles either. Make sure to have enough outlets to help avoid any kitchen renovation mistakes. It's much easier to do this right now then it is to add more later on down the line.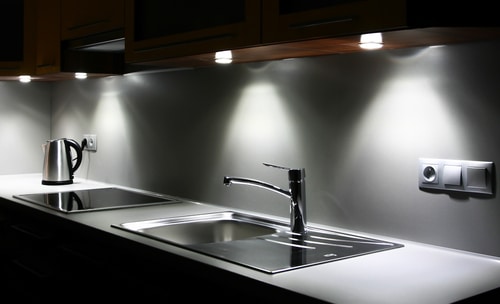 Anticipating your changing needs: universal design and traffic considerations
Ensure your kitchen renovation is universal and meets many of your changing needs as well as providing the proper flow of kitchen foot traffic.
There are many things to consider when renovating a kitchen, but one of the most important is how it will meet future requirements for cooking, eating, and spending quality family time.
If you're planning on having children in five years' time then think about where they might be sitting at that point and what type of space requirements they might need.
With any, remodel and construction job mistakes can happen. Consider the layout of all appliances and all cabinet doors in your kitchen along with other elements to make sure everything looks and feels good. From the kitchen sink to the kitchen floor.
Choosing your kitchen materials
What materials will you use to design and build your kitchen renovation will have an effect on your resale value.
The materials you choose for your home will depend on your budget, the style of kitchen that suits both yourself and your family's needs. You may want to consider using natural stone or wood for a more traditional look while metal is often used in modern kitchens as it's durable with good heat-conducting properties; this could be useful if cooking large meals regularly!
While remodeling, contractors will guide you to the most appropriate material to use for each step of the process. Their advice is usually priceless for any renovation, addition, or remodel job.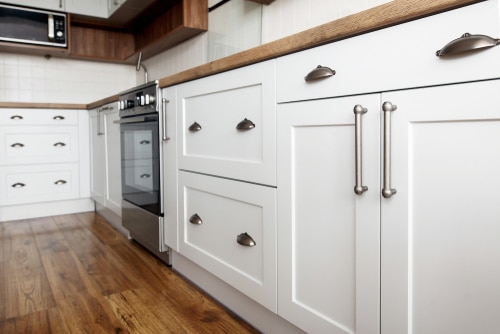 Cabinets and drawers - Melamine - Wood - PVC - Glass - Metal
Selecting the right materials to build your kitchen cabinets is a crucial decision.
The type of material you choose will depend on your budget, the look and feel that suits what is in style at this time as well how durable it needs to be for use with food preparation equipment such as dishwashers or ovens (earthenware can't withstand high temperatures).
There are many different types available including wood; metal cabinets which may include stainless steel appliances like sinks but also have an aesthetic appeal due to their reflective surfaces; laminate countertops - these come pre-made from companies who specialize just making them so they're easy enough even if not DIY friendly marble or quartz counters made out natural stone slabs cut into pieces then glued together before being installed onto kitchen islands etc.
Contractors have also started installing concrete countertops for some great looks and cost reduction.
Countertops - Laminate - Solid Surfaces - Tiles - Metal - Natural Stone
Kitchen countertops can be made from laminate, ceramics, stone, and so much more.
Laminate countertops are the most affordable option and come pre-made from companies who specialize just making them so they're easy enough even if not DIY friendly.
They can be made of various materials including wood, metal, or solid surfaces like tiles which offer a variety of color options for those looking to match their kitchen with other rooms throughout your home such as bathrooms that have tile work on walls, etc..
Marble counters - these may include natural stone slabs cut into pieces then glued together before being installed onto kitchens islands but also require professional installation because it's difficult without experience working around marble due to its fragility.
Costs will vary depending on material selection and it's something contractors can help you with and provide an idea and other choices.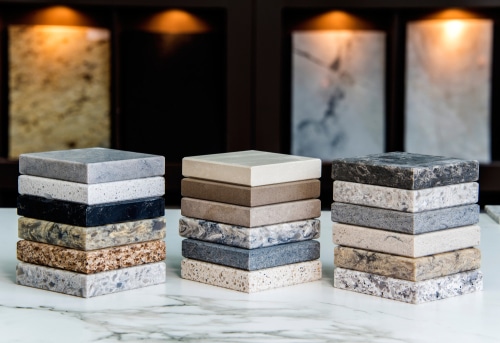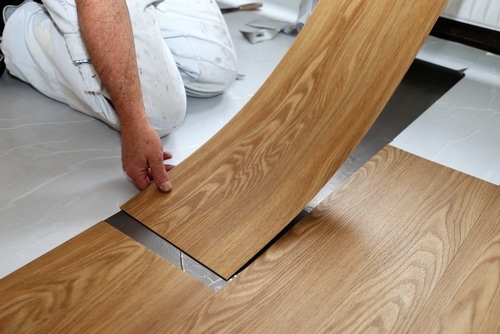 Flooring - Ceramic tiles - Stone - Wood - Laminate - Vinyl - Linoleum - Engineered Hardwood - Hardwood
There are so many choices when it comes to flooring for your kitchen. You can go with ceramic tiles, stone (natural or man-made), wood flooring such as laminate and vinyl.
You may also want to consider engineered hardwood floors which are made of a combination that includes plywoods for stability in addition the top layer is usually oak veneer while laminates have an appearance similar but not identical like natural materials including bamboo.
There are even more choices when it comes from what type you choose: solid surface material where this will be installed on your kitchen island then sealed so spills won't soak through into cabinets below - these can come pre-cut at home improvement stores before installation or floating tile work done by professionals.
There are many advertisement about house remodeling with the kitchen being one of the most expensive rooms to renovate. So many details to consider for your house.
Check out our website for articles that can help when designing dining room and kitchen areas. Bring life to your next kitchen renovation project with our remodeling experts. Let us help you make your house a home.
There is a big selection of sinks and faucets to choose from for your new kitchen renovation. From one sink to double sinks and even those big deep farmers sinks.
Sinks: there are many different styles and materials to choose from. Stainless steel is a popular choice but you might also want to consider the following:
Composite
Cast Iron
Porcelain
Copper
Glass
Natural Stone - Travertine
Natural Stone - Granite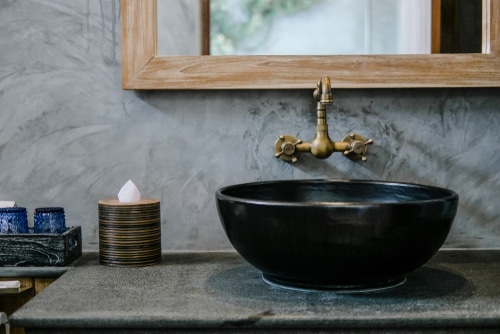 When choosing a kitchen faucet make sure you spend a little time looking at the different options.
The most popular types of kitchen faucets include:
Pull-Down Faucet
Pull - Out Faucet
Single Handle Faucet
Double Handle Faucet
Hands-Free / Motion Detection
and brands range from Moen, Delta, AXOR, Kohler and so many others.
The most popular type of faucet is a pull-out sprayer which has many benefits, but it can be difficult to install in an older home because you need space for installation, and also water pressure needs are higher than other types like single handle or side lever handles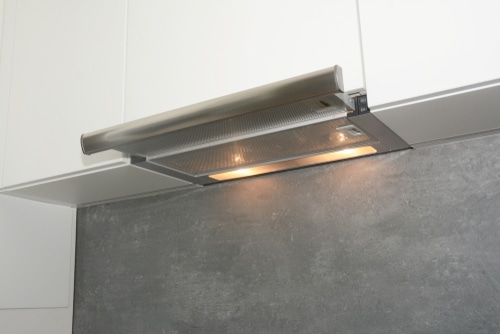 Kitchen Exhaust Hood Ventilation
To vent the different kitchen smells you will have to install an exhaust hood over the stove.
The most popular type of ventilation is an exhaust fan that can be installed in your kitchen ceiling or wall and normally above your stove or cooking surface. Make sure you have enough space for installation and also check if it will work with other appliances like microwaves and stoves.
Appliances also need proper ventilation and one way to ensure something is done right is to hire a professional. They will ensure your fridge, dishwasher, and anything else that needs to dissipate heat or smells will be installed correctly.
Carry out the work with professionals.
Getting the job done right by a professional will make your kitchen renovation project go smoothly.
The most important thing is to select a contractor that you feel comfortable with and who will be able to choose the right materials for what type of work needs doing in order not only to get it done but also do so at an affordable price
Get 3 estimates from licensed, bonded, and insured professionals in your area. Ask for 3 referrals that you can call and talk about the contractor's service, professionalism, and quality of work.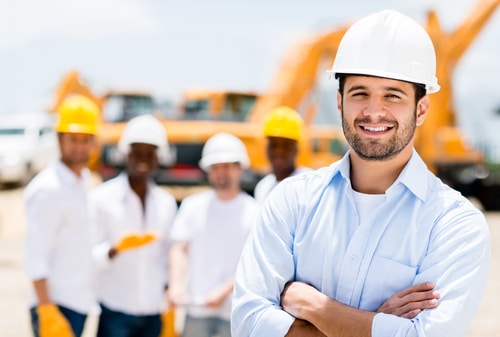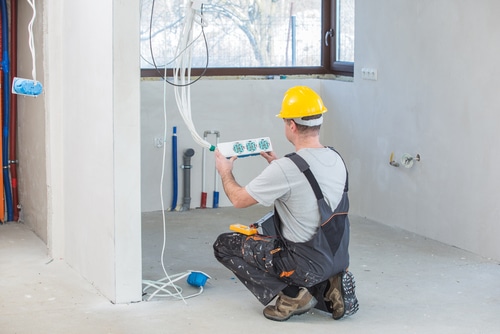 Plumbing and Electrical to consider when renovating
During your kitchen renovation, you will need new plumbing and electrical work.
The plumbing & electrical work must be done by licensed plumbers and electricians. This is an area of the project where the tradespeople must be licensed and certified. Ensure you look at their license prior to hiring them or others to do any work.
Plumbing and electrical work must be done before the drywall is installed as this falls in line with wall framing and initial build-out. Ensuring all appliances have the correct electrical and plumbing requirements at this stage will make your life a lot easier as the project moves forward.
This will also help to avoid any problems that may arise during the installation of your new kitchen cabinets, countertops, or appliances.
Should kitchen cabinets be installed before flooring?
Cabinets are typically installed before flooring. Once cabinets are installed, it's much easier to cut flooring around the shape of the new cabinets. This ensures you're not cutting the flooring too short before it's time to install the cabinets. This also helps save money, as you'll already know exactly how much flooring you'll need, instead of overspending on potentially expensive flooring. There can be some instances in the process where flooring can be installed first, such as when working with an elevated floor. This is to ensure the cabinets are at the right height and properly aligned.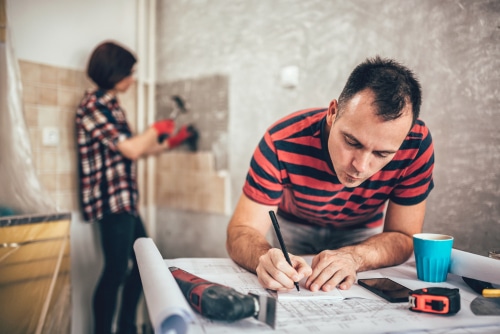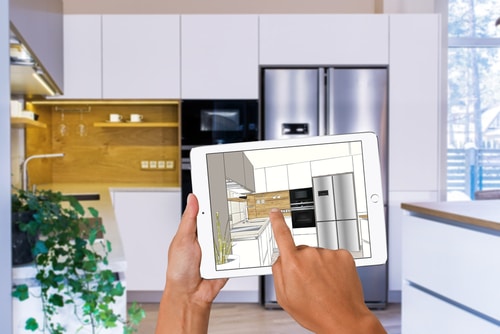 Should I remodel my kitchen before selling?
It's incredibly common for homeowners to renovate their kitchens before selling. A new kitchen shows potential buyers that a lot of work and maintenance has gone into your home. A modern kitchen will be more appealing to buyers, as it will not only look great, but it will also be a bonus for the buyer to know they wouldn't need to start a remodeling project themselves. Overall, a kitchen remodel can help increase your home's value before selling.
How Will A Kitchen Renovation Affect My Home's Value?
A kitchen renovation will typically positively affect your home's value. A modernized kitchen can increase your home's value, as it will show that a great deal of care has gone into maintaining the house. It is, however, important to note that only a good kitchen remodel will increase the value.
Instead of attempting a DIY remodel, it's highly recommended that you reach out to a professional contractor, like ourselves, in order to do the job right. We have enough experience to ensure that the job is properly completed. There's nothing worse than a botched renovation, and it will only bring more problems down the road. It's better to do the job right one time, the first time. Have peace of mind knowing that you left the work to the experts, the result will be worth it in the end.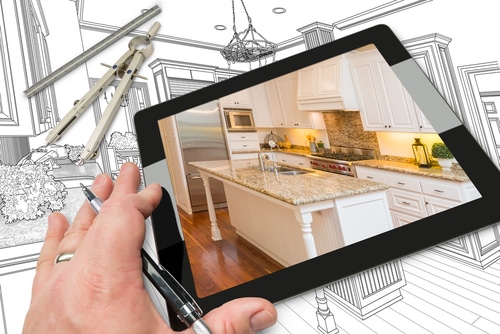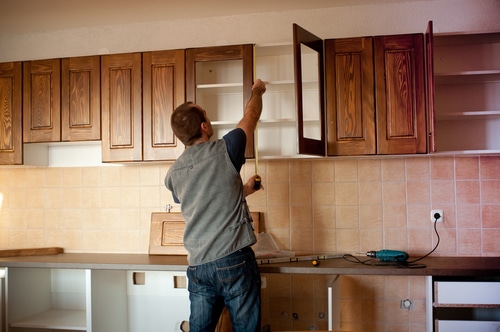 Are Replacing Countertops A Good Investment?
Replacing your countertops is an easy way to update your kitchen, even if it's the only update that takes place. Counter space can totally transform a kitchen space and help modernize the overall look. New countertops are great not only for aesthetic purposes but also to help increase your home's value. As you know, a full kitchen remodel is more than enough to increase the value of your home, but even a small, individual upgrade on your countertops can still make a great difference in helping increase your home's value.
Neighbourhoods of Newmarket