Kitchen Renovations Newmarket Ontario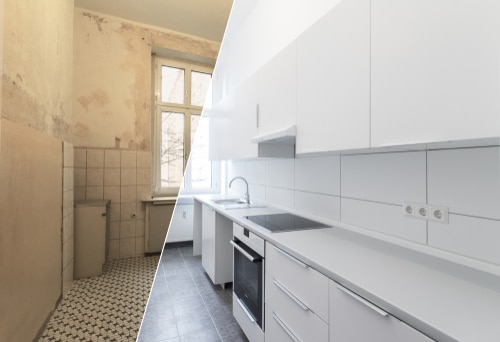 Kitchen Renovations
More people are renovating their kitchens now than ever before. Due to the COVID-19 pandemic and staying at home, many are making the decision to put their family vacation savings and other disposable income into refreshing their kitchens. If you're looking to renovate your space, read on to find out all you need to know about updating.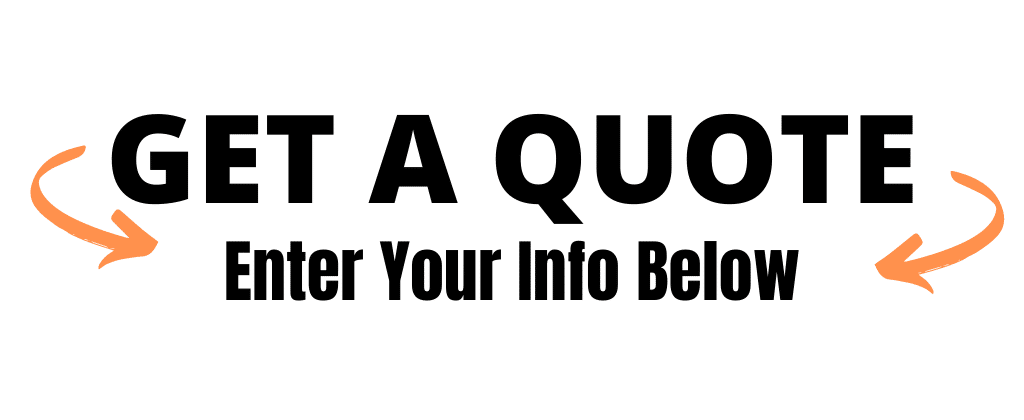 What Is The Average Cost To Remodel Your Kitchen?
On average, new kitchen renovations often fall between $12,000-$34,000. That's not to say they can't go beyond that range. Not all renovations are the same. Many smaller renovations can be much cheaper than $12,000. On the flipside, large, extreme makeovers can go beyond the $34,000 range. Because every new renovation is unique, it's better to seek a consultation to receive your custom design and build quote.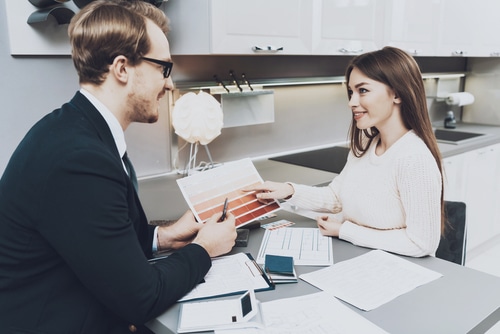 Is Renovating A Kitchen Worth It?
Kitchen renovations are worth it for a number of reasons. Many clients renovate their kitchens to bring new life to their house. For those who have been living in their home for many years, it's common to feel like they've been looking at the same design for too long, therefore deciding to update their space. A new design can make your house feel new again. Your friends and family will love it. Beyond aesthetics, it's also worth it to update to help increase your home's value.
Where do I start with a kitchen remodel?
Start by contacting a professional, like us, who specializes in kitchen renovations. It's a good idea to get a consultation based on the size of your space and what you want to be updated. During this time, browse catalogs or other resources to find inspiration based on your personal taste, family needs, and lifestyle. You can use these to determine what kind of aesthetics, materials, and other designs you want going into your renovation. You can also speak with professional designers who will help you choose what's right for your project.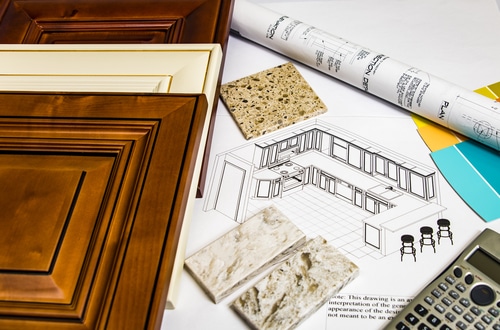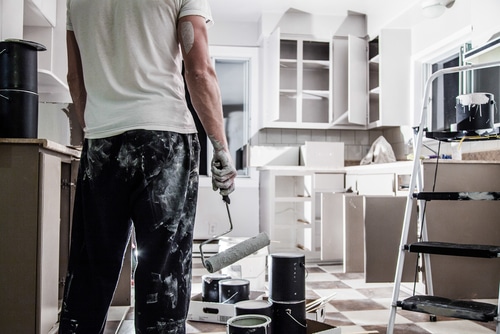 What is the cheapest way to renovate a kitchen?
Taking a DIY route can lower costs, but unless you have the skills and material to do so, it's highly recommended that you hire a contractor or speak with designers. There are ways to keep design and build costs low while working with a professional. This includes having a solid plan that won't require many changes while the job is in progress, or even opting for a partial renovation. Kitchen renovations are one of the most common home renovations, and it's entirely possible to cut costs in the process.
Can you remodel a kitchen for $5000?
A new kitchen remodel under $5000 is possible. It does depend on a few factors, such as the size of your kitchen, and what exactly you're looking to have done. There are ways to keep costs low, such as painting cabinets instead of swapping them out, only updating certain areas, shopping for affordable countertops, updating your sink, and trying new lighting. These are all things that can help you save money on renovations.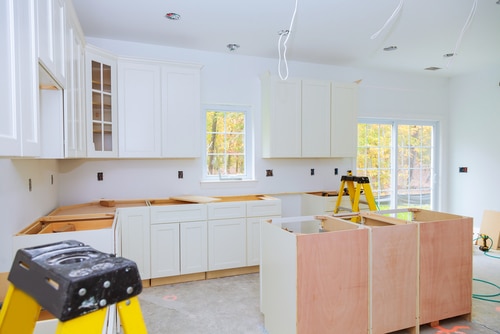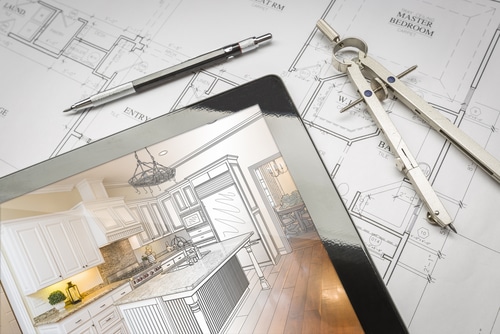 How can I save money on my kitchen remodel?
Many of the methods listed above are great ideas to save money on your remodel, but there are also some crucial ways to keep within your budget. When speaking with your contractor, ask if there are cheaper options for certain parts of the job. One big way to save money is to keep all the plumbing where it is. If you can work around what's already there, you're guaranteed to save money on the finished product.
What do you put in a kitchen remodel?
There are plenty of things that go into a kitchen remodel. In a full remodel, you can expect cabinets, hardware, installation, appliances, ventilation, counters, flooring, lighting, walls and ceilings, design, doors, and windows, sink faucets, and plumbing. Not every kitchen remodel needs to have all of these elements involved in it, but this is generally what you can expect.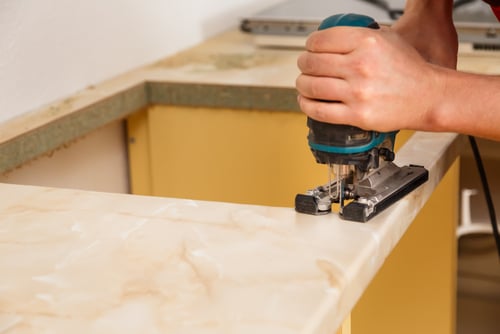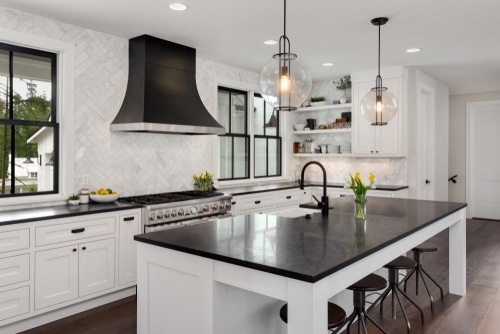 What are kitchen design trends for 2021?
Is your kitchen design up to date? Some current trends include, but are not limited to quartz countertops, dark countertops, top to bottom cabinets, stainless steel appliances, a larger area, minimalist cabinets, multi-level islands, pendant lights, energy-efficient lighting, and slab backsplashes. All of these design choices are great modern ideas, and there are still plenty more to choose from. Consider also checking photos online for design inspiration.
How much should a 10x10 kitchen remodel cost?
Based on size alone, this renovation could cost anywhere between $13,000-$33,000. The scope of the remodel is where that range can fluctuate. For a full renovation, you can expect it to be on the higher end of that range. For remodeling jobs that are more about upgrades than replacements, it's likely to end up in the lower range of that estimate.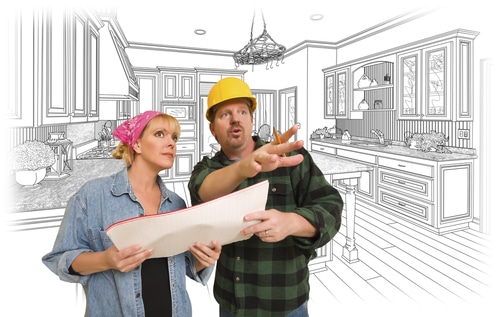 How do you update an old kitchen on a budget?
It's entirely possible to update an old kitchen on a budget. Even if you're not doing a full remodel, there are ways to modernize parts of your kitchen. Start by thinking about all aspects of your kitchen. Which parts of it look the most dated? What's in the worst shape? By taking stock and prioritizing what needs the most attention, those can be updated according to your needs. If your cabinets look old and dated, a simple paint job rather than a replacement might be all it takes to completely transform the area. Consider exploring other cost-effective ideas for individual aspects of your kitchen that need upgrades.
How much does it cost to demolish a new kitchen?
One aspect of a full kitchen renovation is demolishment. This usually includes gutting the whole entire kitchen, floor to ceiling. Destruction still comes with a cost. You can expect this to be anywhere between $600-$1300, on average. While it's entirely possible to demolish your kitchen on your own to save money, it is worthwhile to hire a professional for the job. When you hire a professional, you can ensure they know exactly what they're doing, and that they're not unintentionally destroying important parts of your kitchen, or other parts of your house, that do need to stick around for the renovation.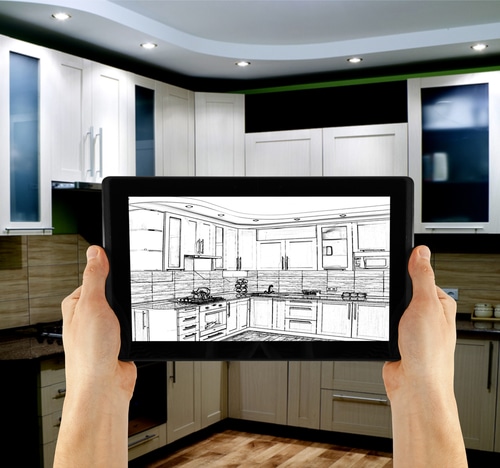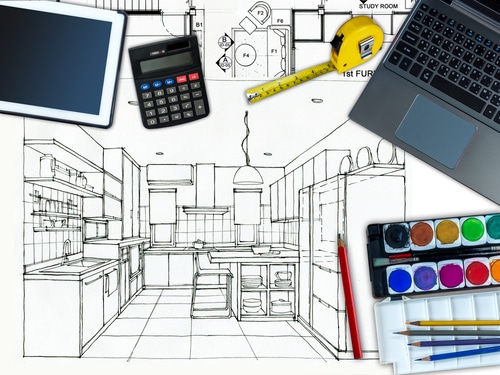 Let Us Help You Build Your Dream Kitchen
When you work with us, you're guaranteed a high-quality dream kitchen renovation. Our team takes pride in their work, putting their heart and attention to detail in all aspects. We have many years of experience in the industry. Thanks to our beautiful kitchen renovations and design advice, customer satisfaction is guaranteed. Our work constantly gets rave reviews. We want to help create something that reflects your lifestyle and personal taste.
Our contractors and designers will work closely with you to determine your needs and budget. When we enter your house, we'll take into account exactly what's needed to bring your vision to life. Let us help you make decisions. You can have peace of mind throughout the entire process when you work with us. We'll build something your family and friends will love. We want to be a part of your next project and help bring your dream kitchen to life.
Why Is A Kitchen Renovation So Expensive?
Kitchen renovations are so expensive for a few different reasons. A lot of time and work goes into the renovation process, which is part of why it costs so much, to begin with. Costs are often brought up based on how much you want to be done in your kitchen renovation project, and what types of materials and customization are being applied. Some materials are more expensive than others, and some customizations require more work than others. When you hire a pro, you're also paying for the experience and expertise. When you pay a little extra for the right contractor, you can have peace of mind knowing it's a worthwhile investment.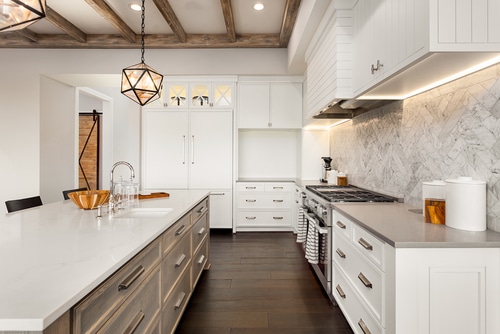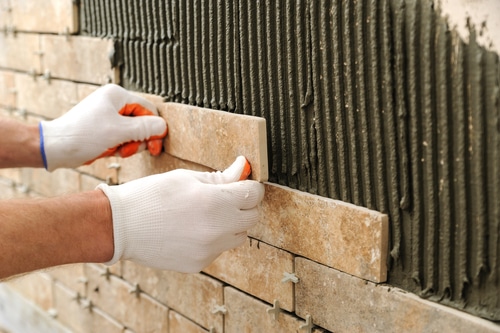 What Is The Best Kitchen Project To Do?
The best project to take on is the one that suits your needs. The most popular kitchen renovations involve countertops, cabinets, and backsplashes. These three examples are essentials in any full kitchen remodel. If you're satisfied with how those look in your current kitchen, other replacements such as floors or lighting fixtures are other popular ideas. Sometimes, a kitchen remodel can even just be a plumbing change and rearranging a few things. Whatever you're looking for, the best project is the one that will make you happiest.
Should kitchen cabinets be installed before flooring?
Cabinets are typically installed before flooring. Once cabinets are installed, it's much easier to cut flooring around the shape of the new cabinets. This ensures you're not cutting the flooring too short before it's time to install the cabinets. This also helps save money, as you'll already know exactly how much flooring you'll need, instead of overspending on potentially expensive flooring. There can be some instances in the process where flooring can be installed first, such as when working with an elevated floor. This is to ensure the cabinets are at the right height and properly aligned.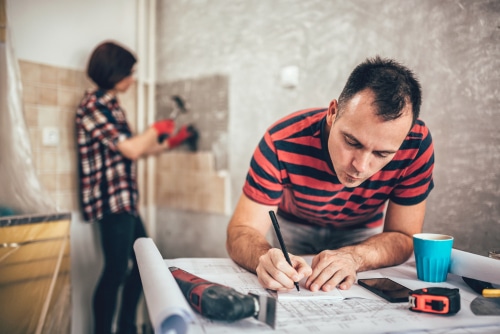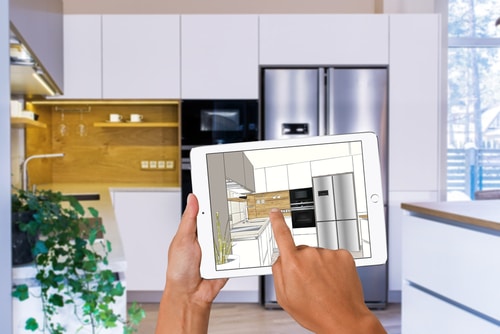 Should I remodel my kitchen before selling?
It's incredibly common for homeowners to renovate their kitchens before selling. A new kitchen shows potential buyers that a lot of work and maintenance has gone into your home. A modern kitchen will be more appealing to buyers, as it will not only look great, but it will also be a bonus for the buyer to know they wouldn't need to start a remodeling project themselves. Overall, a kitchen remodel can help increase your home's value before selling.
How Will A Kitchen Renovation Affect My Home's Value?
A kitchen renovation will typically positively affect your home's value. A modernized kitchen can increase your home's value, as it will show that a great deal of care has gone into maintaining the house. It is, however, important to note that only a good kitchen remodel will increase the value.
Instead of attempting a DIY remodel, it's highly recommended that you reach out to a professional contractor, like ourselves, in order to do the job right. We have enough experience to ensure that the job is properly completed. There's nothing worse than a botched renovation, and it will only bring more problems down the road. It's better to do the job right one time, the first time. Have peace of mind knowing that you left the work to the experts, the result will be worth it in the end.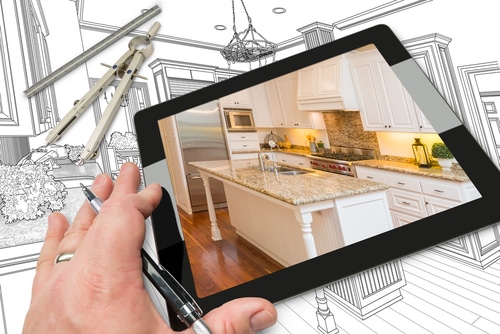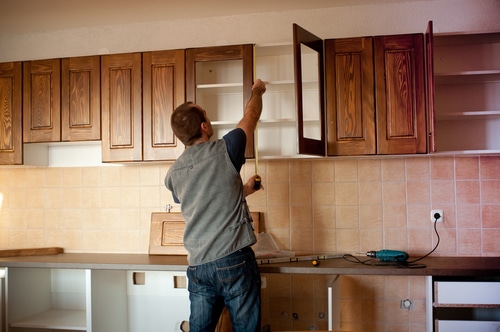 Are Replacing Countertops A Good Investment?
Replacing your countertops is an easy way to update your kitchen, even if it's the only update that takes place. Counter space can totally transform a kitchen space and help modernize the overall look. New countertops are great not only for aesthetic purposes but also to help increase your home's value. As you know, a full kitchen remodel is more than enough to increase the value of your home, but even a small, individual upgrade on your countertops can still make a great difference in helping increase your home's value.
Neighbourhoods of Newmarket